Schedule a Visit
* Please note that only veterinary clinics who are current customers of Scanvet may schedule appointments. Thank you!
* If you are a pet owner, please contact your veterinarian to schedule.*
Step 1: Schedule Appointment
About Scheduling

We've broken our territory into two (2) regions, North and South. We've included a map so you can see which territory your hospital is in.
Northern Locations: Tuesday, and Thursday
Southern Locations: Monday, Wednesday, and Friday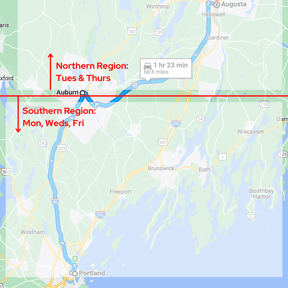 Click on the corresponding calendar below to get started.

Appointment blocks are 2 hours per patient, this allows you the flexibility to add an additional scan without the need to call Scanvet for approval.
After you've selected your desired appointment time, please proceed to the form below and complete the patient information for each patient that will be scanned.
If you have a sick patient that needs to be seen and can't find availability on your desired appointment day, feel free to contact us directly (207-240-4999). We will do our best to accommodate your schedule.
2. Patient Information Form