5 Ways Scanvet Makes Mobile Ultrasound Easy
We know veterinary hospitals are busier than ever. Scanvet has developed a few ways to help local veterinarians offer high-level ultrasound and diagnostics without bogging their hospital staff down.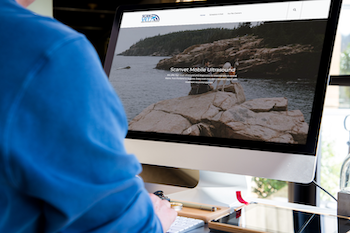 1. Schedule Onlin

e
No more back and forth! We recently released a new website and customers can now use ANY device to find and book appointments with the pet owner before they leave your office.
2. New

Schedule

In order to see as many patients as possible,
we've broken our service area into to (2) territories, North and South

.
Scanvet clients can use the map above to easily identify which territory their hospital is in.
Quick Links to Schedule Online:
3. But What About STATS?
Contact Us Directly! If you have a sick patient that needs to be seen and can't find availability on your desired appointment day, feel free to contact us directly (207-240-4999). We will do our best to accommodate your schedule.
4. Add-On Patients
Appointment blocks are
2 hours per patient,
this allows you the flexibility to
add an additional scan without the need to call Scanvet for approval.
5. New Pet Owner Page
We've developed a page to help owners know what to expect before, during and after the ultrasound exam. Take a look at the page!